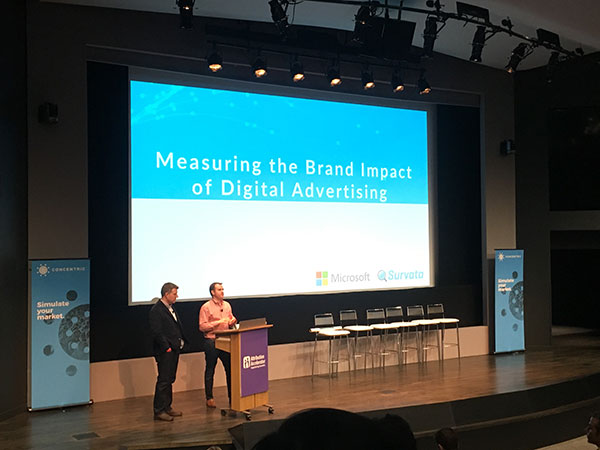 How Microsoft Measures Brand Equity in Digital Age
It's not often that you hear the issue of brand equity discussed at an attribution conference, but in this age of digital advertising, many marketers and advertisers think there is a trade off between focusing on sales and conversion versus building brand equity. Microsoft's Advertising Effectiveness Innovator Josh Billig sees that the rise of digital advertising and programmatic has often created too much focus on the short term pay off of ad investments, as opposed to the long term.
Digital advertising has made the pendulum swing too far toward only being concerned with driving sales and conversions, which doesn't account for how digital advertising can be highly impacting on a company's brand. And, while some question how much brand equity affects company performance these days, there's little doubt that brand equity supports lifetime value. The trouble is, how do you measure its effect?
At the Attribution Accelerator conference last week, Upwave CEO Chris Kelly had the opportunity to co-present with Josh, discussing how a tech-centered approach to Ad Research is essential to measuring the effect that a digital ad campaign has on building brand equity.
As Josh pointed out, if a brand is too closely focused on the short-term effect of digital advertising, then they'll miss long-term revenue opportunities. But, with all of the rapid changes in the digital ad landscape – from programmatic to the explosion of new market research tools – most of the available market research solutions don't have the capability to keep pace with technology. Many vendors may come to the table with a solution for measuring programmatic efficacy, but then it can't measure the efficacy of a machine-learning algorithm that is constantly changing.
That's why Microsoft turned to Upwave, a market and ad research company that distinguishes itself because of its tech DNA. Microsoft requires a campaign measurement partner that can handle scale. For one of its upcoming campaign, Microsoft will serve 5 billion impressions in the U.S. alone across 40 publishers, scale at which a survey-panel or ad-banner approach cannot support.
Upwave uses its Publisher Network to unlock premium content for survey-takers, drastically improving quality while also handling the scale Microsoft requires. Microsoft uses Upwave for everything from defining its campaign objectives to optimizing campaigns in flight.