Whether your brand is running multiple campaigns or you are an advertiser with multiple brands across categories: strategic, portfolio-wide decision-making comes with unique challenges.
These challenges often stem from the fact that advertisers only have access to granular, campaign-specific data, or are tasked with sifting through datasets from different measurement partners. But brand marketers frequently need to look across campaigns in order to make bigger-picture planning, budgeting, and optimization decisions — a difficult task when armed with only campaign-level insights or disparate data sources.
As an answer to these challenges, Upwave is excited to introduce a true breakthrough in campaign measurement: Tactic-Level Portfolio Analytics. With the addition of tactic-level analytics in our Portfolio Analytics Suite, Upwave is the first measurement company to deliver a detailed and comprehensive look at the performance of tactics across your campaigns in one single view. Now, brand marketers can view and compare performance of their tactics (channels, audiences, media formats, ad units, publishers, targeting types, etc.) across any set of campaigns they choose.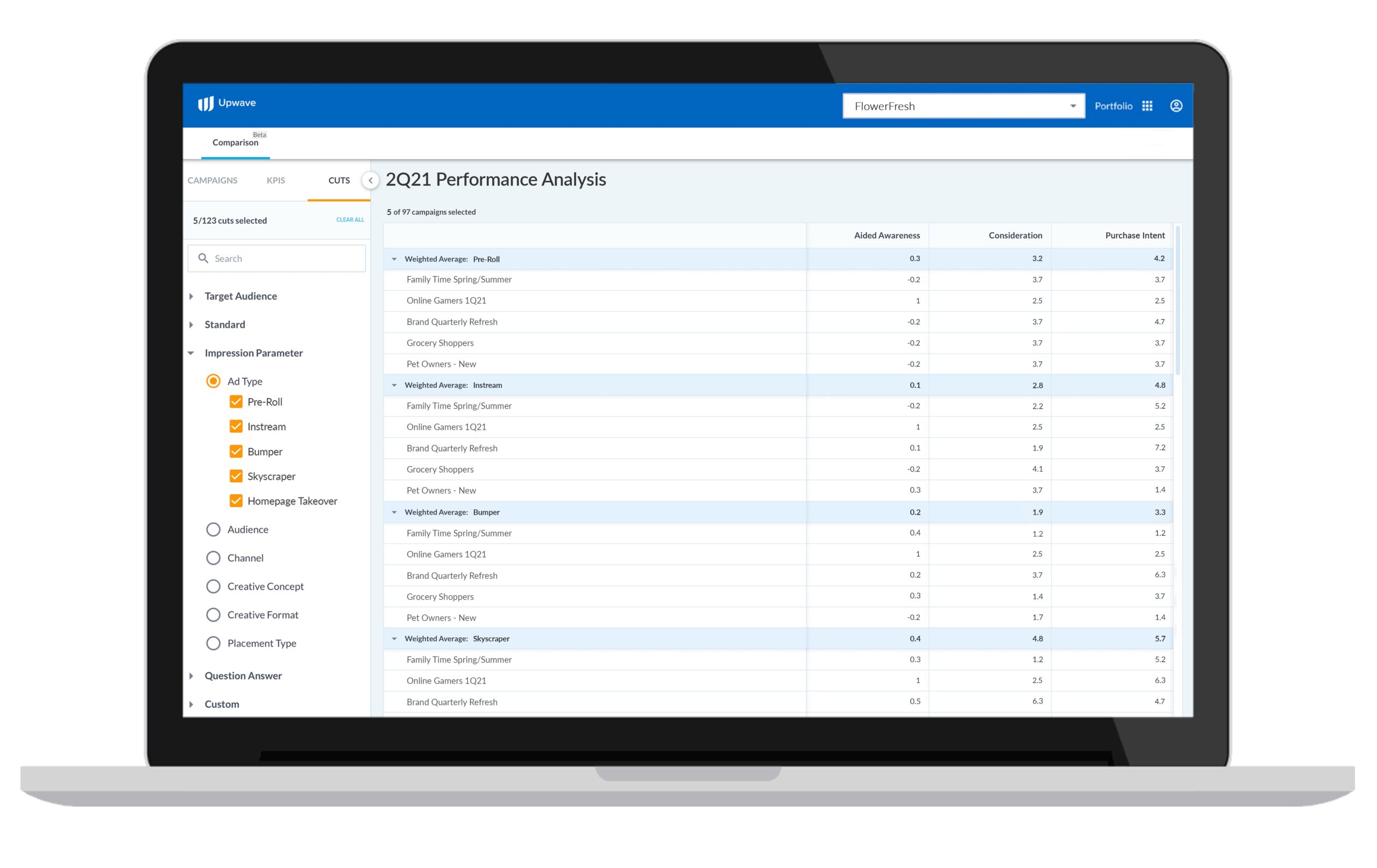 A Closer Look
Tactic-Level Portfolio Analytics provides advertisers — particularly those with multiple SKUs, products, or distinct brands within and across categories — a time-saving overview of portfolio-wide performance and meaningful benchmarks of media tactics, for their brands or categories.
In one single view, advertisers can now choose specific tactics to compare across a set of campaigns, and generate custom KPI lift benchmarks for them, enabling them to:
See whether a tactic performs better for one campaign compared with another
See whether certain tactics perform better or worse across your campaigns
Easily compare weighted averages of tactics for at-a-glance benchmarks
Big-Picture Impact
Tactic-Level Portfolio Analytics provides invaluable insights for strategic decision-making.
For brands, Portfolio helps to:
Discover under and over performing media partners and negotiate at the corporate level
Guide data strategy with 1st party vs 3rd party performance across categories
Make optimization decisions across tactics, for example: comparing CTV, addressable TV and linear broadcast performance across all campaigns for planning decisions
For publishers, these insights help to:
Set lift performance expectations throughout the sales cycle
Develop lift benchmarks for media formats, ad units, or other specific products (custom creative, non-standard lengths, HPTOs)
Create benchmarks and proof points for media formats and ad units
Demonstrate competitive performance for customers based on lift benchmarks
Prioritize media products for each vertical
Finally, for agencies, this feature helps to:
Validate media strategies, tactical recommendations, audience planning, and pilots
Speak to client- or agency-driven learning agendas
Analyze frequency and cost efficiency
Inform test and learn cycles, best practices, and benchmarks to optimize go-forward media planning
Upwave is proud to be the first measurement company to deliver a detailed and comprehensive view of brand campaign performance across categories to make strategic, portfolio-wide decision-making easy. Click here to learn more in our upcoming Expert Update.