It's no secret that tech companies amass vast stores of user information, from tax records to snapshots of pumpkin spice lattes. What's more ambiguous is how this personal information is used. And while major Internet companies like Google, Yahoo, Apple, Facebook, and Microsoft publish transparency reports to distance themselves from NSA spying paranoia, companies like AT&T and Verizon are decidedly more opaque.
Given the public discourse on information gathering and transparency, we at Upwave were curious to see which tech companies have garnered trust among consumers. To do so, we used our consumer survey tool to ask 3,175 online respondents to rank a group of companies in order from their most to least trusted.
In tech we trust
To rank the companies, we showed respondents five companies randomly drawn from our list of 20, and asked them to rank the companies from "most trusted" to "least trusted" with personal data. We found that, at 47%, Google was ranked as the most trusted company most often, followed by Amazon and Apple at 43% and 38%, respectively. AOL, Sprint, and Snapchat were ranked as the most trusted company least often.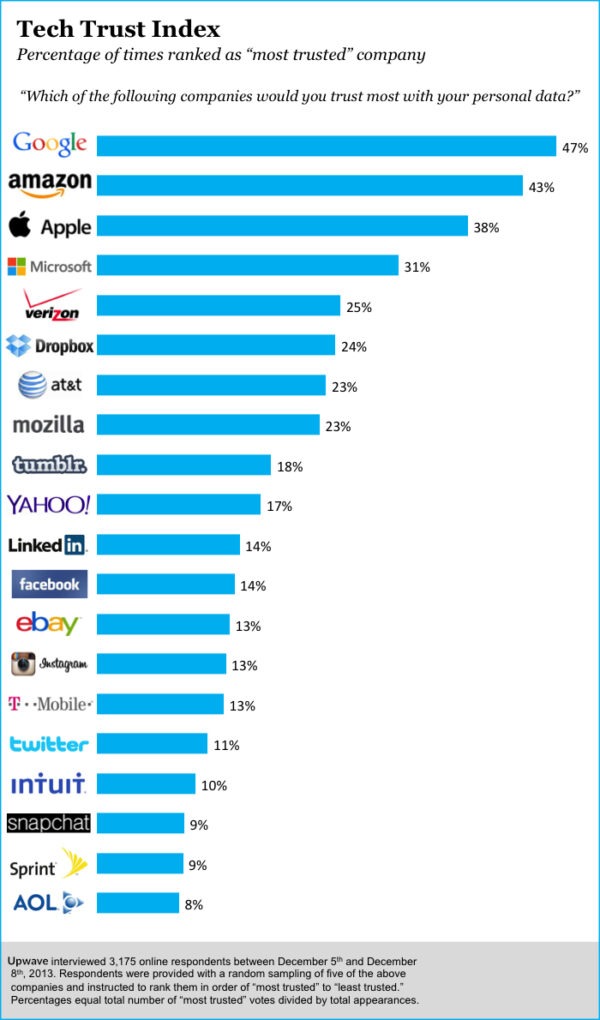 There are of course other ways to cut this data. When ranking the companies by highest average placement, Amazon, Google, and Apple again earned the top three spots. Snapchat, Intuit, and AOL had the lowest average placement.
Snapchat is potentially an outlier in our group of 20 companies; because it doesn't have the massive user base of a company like Apple, Google, or Yahoo, a lower percentage of respondents would have used it. Snapchat also (perhaps unfairly) has a well-documented reputation for exchanging particularly sensitive content (read: "sexting").
Our take
We found it interesting that Google, which arguably holds the largest quantity of information on the average tech consumer, has maintained such a high level of popular trust. Further, we were surprised to see AT&T and Verizon among the top half of most trusted companies, considering they are bucking the trend of data sharing transparency. However, we expect this index (together with the technology of the companies themselves) to rapidly evolve.
Footnotes for our fellow data geeks
We interviewed 3,175 online respondents from December 5 to December 8, 2013.
You can download the underlying data here.
You can analyze the underlying data in Statwing here.