Create the reality or control the destiny that you envision for each campaign with Upwave's best-in-class Campaign Analytics suite. Brands use Campaign Analytics to continuously optimize TV, digital and cross-media campaigns towards both full-funnel lift and targeting accuracy.
75% of campaigns have results in the first week. This suite offers optimization recommendations, brand and customer lift, and targeting profiles and reach.
Real-Time Optimization
Recommendations
Upwave's industry-first Optimization Dashboard gives real-time recommendations to let marketers know when a campaign tactic is working, and when it's not. Don't wait until the end of your campaign when you could be making accurate and actionable decisions now. Recommendations available in-dashboard and via email, within the first week in 75% of campaigns.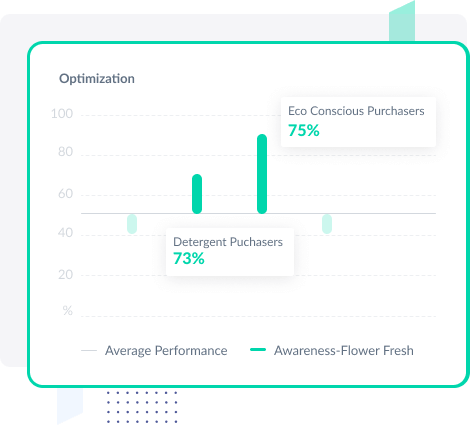 Demographic and Behavioral Targeting
Profiles
Ensure campaigns and media tactics are reaching your desired brand-specific audiences, and make adjustments mid-flight with Upwave. Our On-Target Profiles highlight the accuracy of a tactic or campaign in reaching a brand-specific demographic or behavioral trait; available cross-channel (for digital, linear TV, addressable TV, CTV and streaming audio) and updated daily.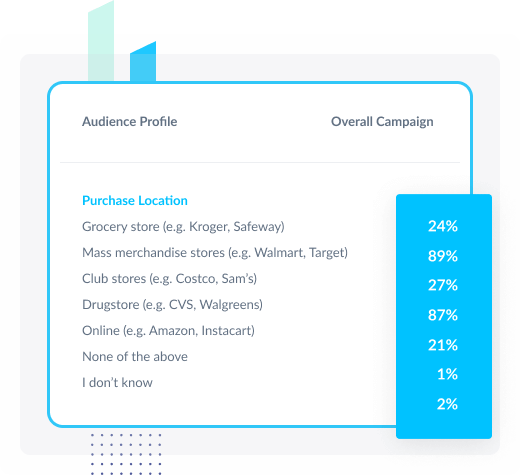 Validate Reach & Frequency with
On-Target Reach
Upwave is able to validate reach and frequency across fragmented channels, including CTV, linear TV, and digital. Marketers can go way beyond age and gender into reporting reach and percentage penetration within brand-specific target audiences fully cross-channel.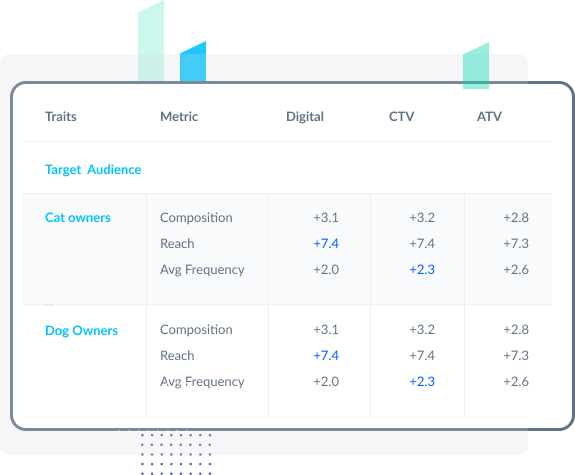 Quantifiable Customer Forecast
Forecast the long-term customer lift from each campaign and tactic with Upwave's Customer Forecast Metric. Brand marketers identify long-term media efficiencies with Customer Forecast, to complement the short-term efficiencies available from Media Mix Modeling and Multi-Touch Attribution. Upwave's Customer Forecast model leverages an AI-based brand equity model specific to your brand that is calibrated using sales data.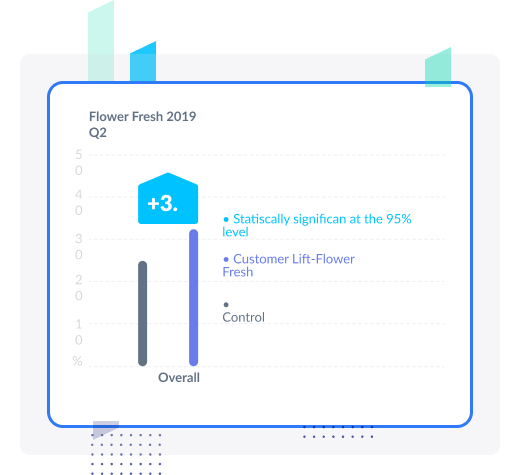 Upwave advertisers have access to actionable data early, that highlights brand resonance and opportunities to up-level optimization conversations from clicks, to brand KPIs. Upwave measures brand lift of TV, digital and cross-media campaigns deterministically, with a cookieless approach that never uses Opportunity to See (OTS). Users save time with same-day, automated setup, and leverage an exploratory dashboard with unlimited cuts to elevate conversation between brands and media companies from clicks to brand building.