CTV has changed how brands think about targeting, and reporting reach by age & gender is no longer good enough. Upwave's On-Target Profiles validate how successful a tactic or campaign is in reaching a demographic or behavioral trait. This profile is available cross-channel, across TV and digital, and updated daily.
At the same time, with the rise of CTV, video campaigns struggle with validating reach and frequency across fragmented channels, including CTV, linear TV, and digital. Upwave's On-Target Reach allows marketers a fully automated, campaign-level view of reach, frequency and penetration rate within your brand specific target audience.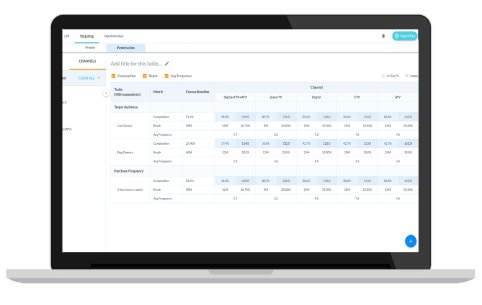 The Upwave Difference | Targeting
Optimization recommendations customized to your target audience
Compare each media partner, channel and programmatic segment to your overall campaign in terms of target accuracy given your brand-specific target audience, with On-Target Profiles.
Get optimization recommendations in your email inbox, via Opportunity Notifications, that identify opportunities to reallocate towards greater on-target accuracy.
Go beyond age and
gender reach metrics
Upwave goes deep, reporting reach and penetration rate within brand-specific target audiences. Learn what percentage of your total target is being missed, and optimize towards closing that gap.
On-Target Reach metrics also give you a full cross-channel scope, covering linear, addressable, CTV, online video, display and audio. Upwave's On-Target Reach metrics mean reducing wasted media spend.
For more on On-Target Profiles and On-Target Reach check out our Expert Update from Upwave.