When optimizing a campaign – reallocating budget or traffic between media tactics or creative tactics – it's important to use the right metric. Upwave's Brand Analytics Platform provides access to Outperformance Indicators for every tactic in a campaign.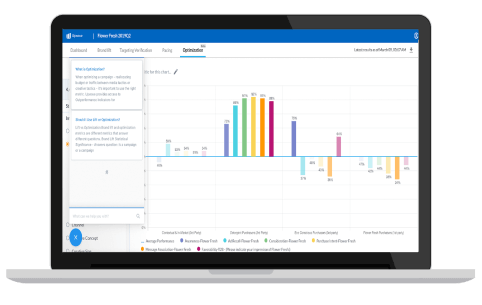 The Upwave Difference | Optimization
Outperformance indicators are simple – they show the probability that a tactic is helping a campaign. The Brand Analytics Platform surfaces insights for you to act on during the entirety of your brand campaign.
Empowers optimization throughout campaigns
Traditional brand lift companies use statistical significance to demonstrate when a tactic is working or not – but statistical significance isn't intended to be evaluated until a campaign is over. This is too late for marketers to make impactful optimization decisions for their campaigns to improve ROI and efficacy of their brand campaigns.
Automated, actionable insights in your dashboard
Industry-first Outperformance Indicators combine the information from multiple metrics to create one metric that directly answers the optimization question: How likely is it that this tactic is helping the campaign? We make it even easier by sending actionable email notifications directly to your inbox so optimizing is a key component, not an afterthought, of your campaign.
Marketers can use optimization to make their mid-campaign reporting easy. Upwave's data is refreshed every 24 hours allowing frequent optimizations during your campaign. Our Outperformance Indicator also stabilizes quickly to prevent your results from fluctuating throughout the campaign.
Check out our blog on Optimization here.