Upwave enables marketers to measure as many brand campaigns as needed, providing in-depth insights for each one. While this detailed campaign-level analysis is essential for campaign-specific optimization decisions, marketers often need to assess performance across their entire portfolio in order to make bigger-picture planning, budgeting, and even optimization decisions. Until now, though, portfolio-level analysis has been a time-consuming process, requiring toggling between campaign views…and if you're looking to understand average performance, it means manually computing that.
As a direct answer to this need, Upwave is excited to announce our latest innovation: Brand Portfolio Analytics. This time-saving new feature enables publishers, brands, and agencies to easily compare results across an entire portfolio of brand campaigns in one single view. In addition to quick campaign comparisons, Portfolio Analytics also enables marketers to assess average performance across all campaigns without having to collect lift information from different views and calculate the averages manually.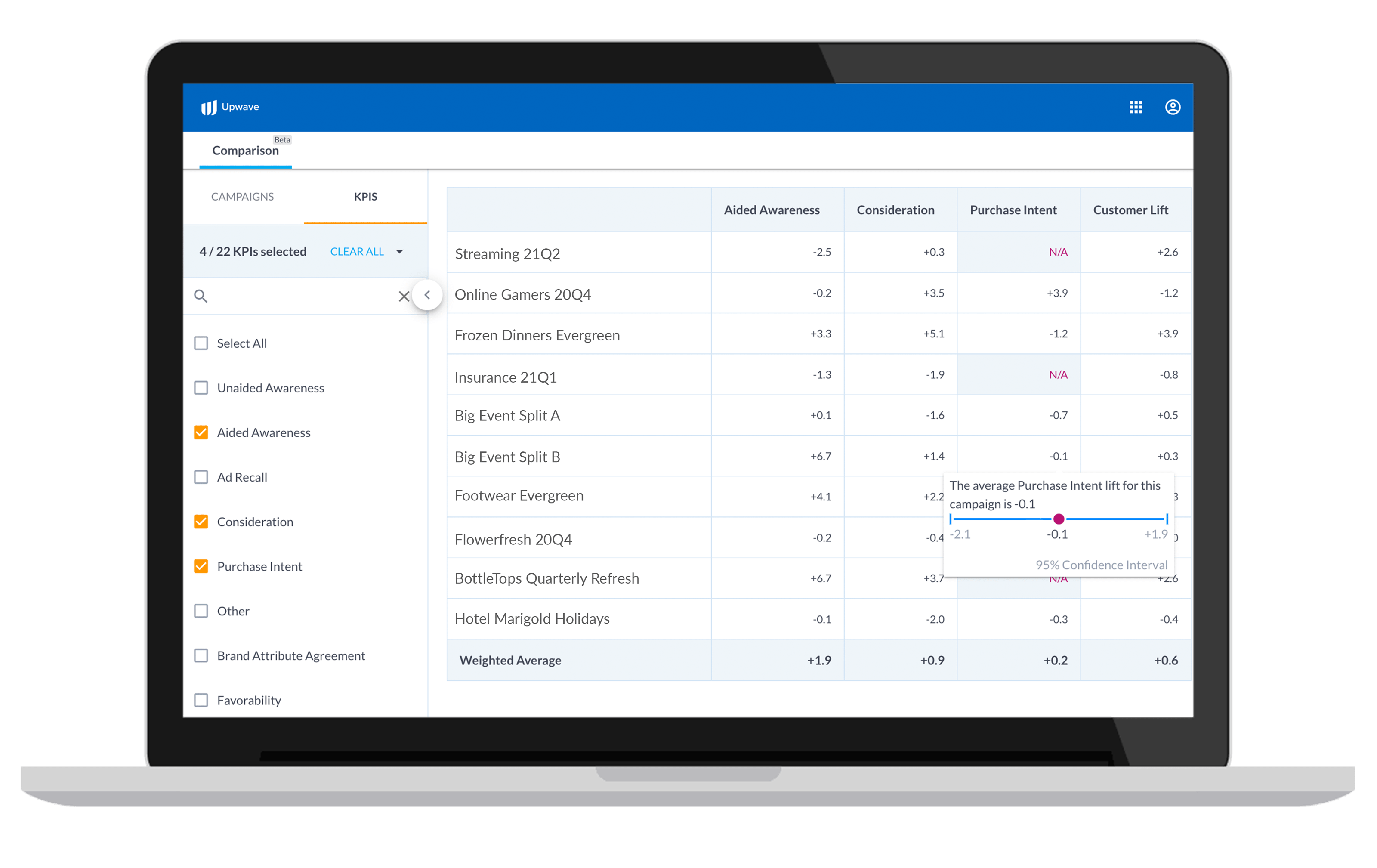 How it Works
Portfolio Analytics is easy to find within a simple drop-down menu in the Upwave dashboard.
Under the Portfolio menu option, our customers can easily select specific sets of campaigns to compare, from a specific brand, sub-brand, product category, vertical, or type of campaigns – any grouping that's meaningful to them! And this enables our customers to create custom KPI lift benchmarks however they like!
Once a customer selects their campaigns and KPIs of interest, Portfolio generates a simple side-by-side comparison of KPI lift performance from each campaign overall, as well as a weighted average of KPI lift performance of those campaigns, and a typical range (based on a confidence interval).
Impact for Publishers, Brands, and Agencies
Whether you are on the sell-side or buy-side, the time-saving portfolio insights provided by this new feature will make it easier to inform strategic brand advertising decisions, from media planning to campaign budgeting to ad selling.
Publishers, for example, can leverage insights gleaned from Portfolio Analytics for a variety of purposes. To set lift performance expectations throughout the sales cycle, from RFP to plan refinement through optimization to post-analysis. Or to develop custom lift benchmarks for media formats, ad units, or unique products. How about to prioritize the solutions they pitch, or to demonstrate competitive performance for customers based on those lift benchmarks. And they can even inform pricing strategy and product development!
For marketers with multiple SKUS or products across categories, this overview of portfolio-wide performance and benchmarks for brands or categories can serve as valuable input for brand reviews, strategic and comms planning, and cyclical budgeting.
Portfolio analytics are a boon for agencies, too. It helps to validate media strategies, tactical recommendations, and pilots; speak to learning agendas; feeds into test and learn cycles, best practices, and the mechanics of media planning.
Looking forward
Very soon, Portfolio Analytics will also enable our customers to compare lift of any measured KPI by tactic! This will not only help our customers to chart tactical performance across campaigns, it will unlock strategic insight into benchmarks for channels, audiences, targeting types, media formats, ad units, publishers, etc.
To learn more about Upwave's Portfolio Analytics, tune into our latest webinar here.