The most common challenge we hear from CMOs is an inability to demonstrate the ROI of brand investments. Faced with competing demands for budget from channels that appear more measurable — direct response advertising, new distribution channels — it's always hard to show the revenue impact of investing in the brand.
That's typically because there is a missing link between sales lift and brand lift. And that missing link is the customer. The reality is: you can't go straight from media delivery to total sales in a way that is actionable for brand advertising. Investing in brands is investing in customers, not short-term sales lift.
Introducing Customer Lift
At Upwave, we think measurement should solve this, which is why we've developed an innovative new metric called Customer Lift. This metric tells brand marketers the extent to which the campaign drove new customers or retained existing customers. Customer lift provides a much better signal, and finally offers the missing piece that ties brand movement to revenue when paired with customer lifetime value (CLV).
Customer Lift measures the impact of brand campaigns on the probability of a consumer being a customer of the brand. This lift is experienced by the brand as new customer acquisition and customer retention. Traditionally available as part of Mixed Media Modeling studies (MMM), Upwave brings long-term customer impact forward to the campaign-level in real-time.
How does this compare to other bottom-of-funnel metrics? Bottoms-up metrics like sales lift and MTA (originally designed for direct response campaigns) capture short-term sales impacts quickly at a granular scale, but severely under-value brand campaigns that are intended to drive business outcomes both mid- and post- campaign by acquiring new customers and retaining existing customers. Top-down metrics like MMM fully value brand campaigns, but are slower and more coarse-grained.
Upwave Customer Lift is unique in that it fully values brand campaigns at the speed and granularity needed for optimization and planning.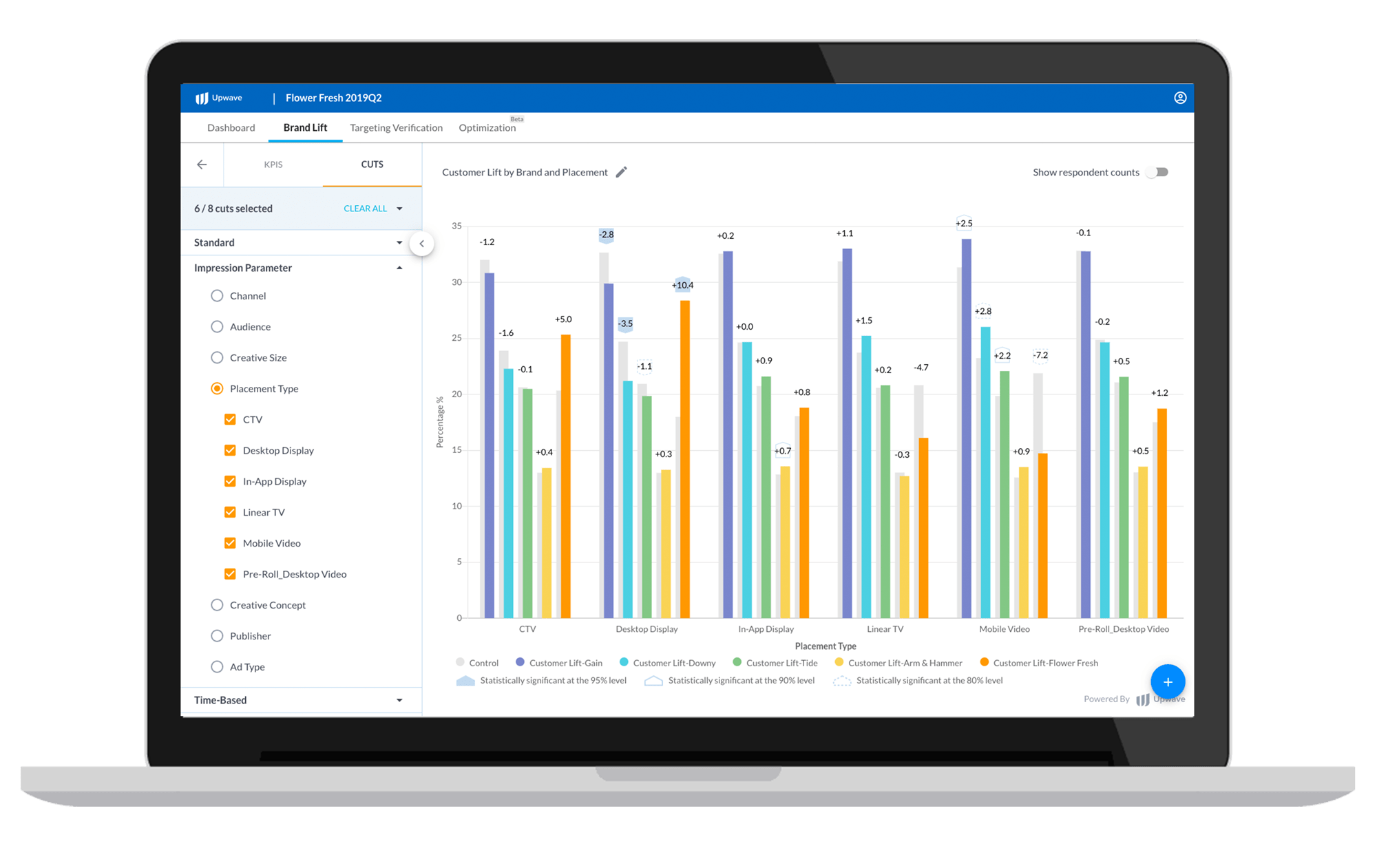 How does Upwave measure Customer Lift?
Upwave consumer data includes more than brand lift. It includes whether consumers we interview are current or past customers of your brand, their extended demographic and behavioral traits relevant to your brand's market segmentation, as well as their attitudes towards your brand. Customer Lift is calculated using all of this data.
Upwave's initial version of Customer Lift is reported as a percentage. This is the increase in probability that those reached by a campaign will become customers. For example, a 0.8% Customer Lift for a campaign reaching 10 million people creates or retains 80,000 customers across the path to purchase during and post-campaign. Future versions will report Customer Lift as a count of customers.
To learn more about the powerful data science behind this new metric, download our recent Customer Lift whitepaper here.