Did you remember your mask? Are you staying at least six feet away from the people around you? Did you really wash your hands for two rounds of "Happy Birthday"? With so many prevention measures to keep in mind throughout the COVID-19 pandemic, we wondered: would folks remember an ad campaign? Could advertising really make a positive impact when it comes to public health?
Upwave partnered with Gumgum and the Ad Council to answer those questions. Through an exciting pro bono partnership, we were able to run — and measure — the Ad Council's #AloneTogether campaign, a public health initiative to amplify the important message of social distancing, provide helpful tips to stop the spread of COVID-19, and offer mental health support as individuals and communities around the country learned to navigate the pandemic alone, together.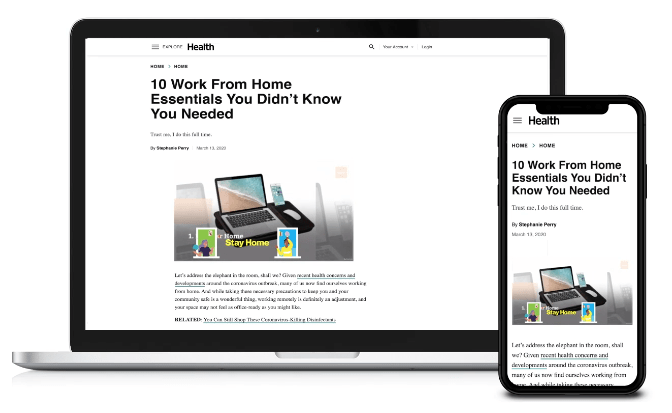 GumGum leveraged their exclusive in-video ad format to share the Ad Council's messaging within contextually relevant content across premium sites in the health, lifestyle, entertainment, news, and travel verticals. The campaign ran from March 20th until June 30th, appearing on major publishers like Parenting.com, Health.com, and People.com.  See the ad in action >>
At the close of the campaign, Upwave measured the results pro-bono.
Upwave Brand Study Results
The results of our brand study revealed that the #AloneTogether campaign was very successful in getting the message across. We saw a 13% lift in Ad Recall and significant lifts in Action Intent KPIs. In fact, 14% of exposed audiences were more likely to follow social distancing more diligently, 13% were more likely to visit the coronavirus.org website, and 10% were more likely to talk to friends & relatives about #AloneTogether after seeing the campaign. 8% of viewers were also more likely to look for the #AloneTogether hashtag on social media or news sites.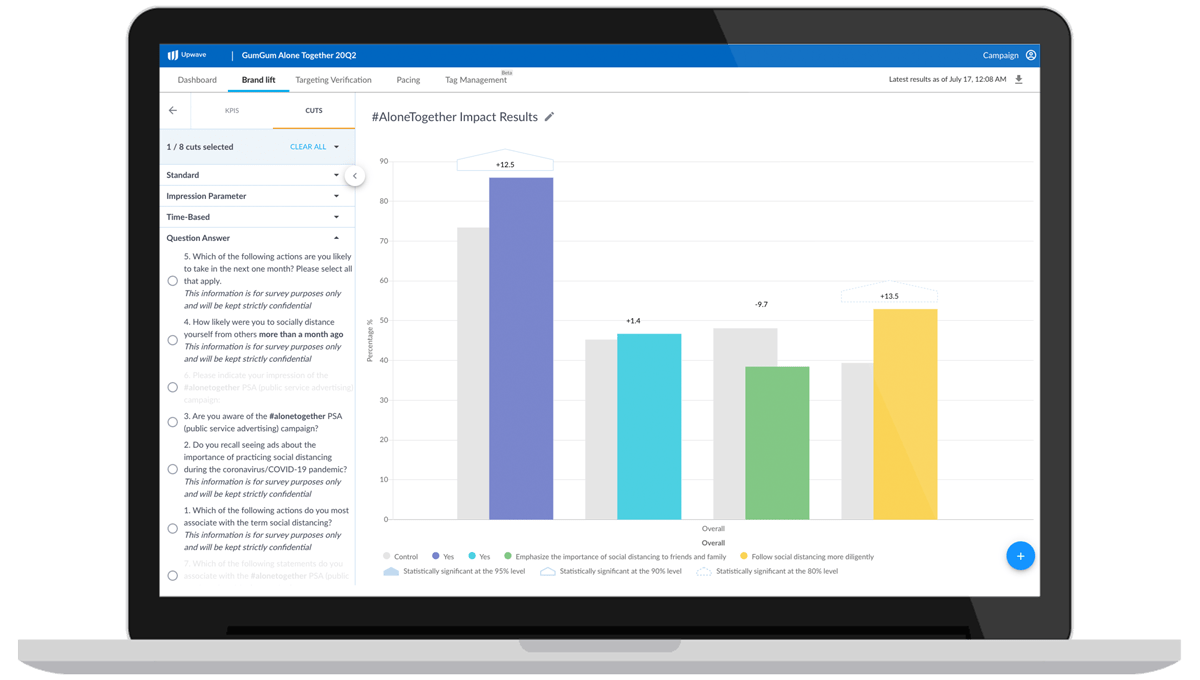 Our measurement revealed a few interesting demographic trends, as well. For instance, women were 2x more likely than men to follow social distancing guidelines after seeing the #AloneTogether campaign. Lifts observed in action intent and ad recall at an overall level originated from respondents in large cities, which is notable given that larger metros were generally harder hit by the pandemic and in greater need of social distancing adherence at the time of the campaign (March – June). Additionally, Ad Recall (social distancing ads) lifts were significant among men while women were more likely to look up campaign-related content online.
Ultimately, the results of this campaign show that advertising can play a positive role in protecting public health. Together with Gumgum and the Ad Council, we were proud to spread the word while slowing the spread of COVID-19.
Interested in learning more about how Upwave can help you measure the precise impact of your campaigns?   Complete the form below and our team will contact you shortly!