What's New: Portfolio Analytics
Comparing and aggregating performance across campaigns just got easier.
Upwave's new Portfolio Analytics feature allows you to compare results across your full portfolio of brand campaigns at-a-glance. What's more, you can create custom KPI lift benchmarks based on any grouping of campaigns – for brands, sub-brands, product categories, or verticals.
To use Portfolio Analytics, log in to your Upwave dashboard, click the context switcher in the upper right hand corner of the page, and select Portfolio.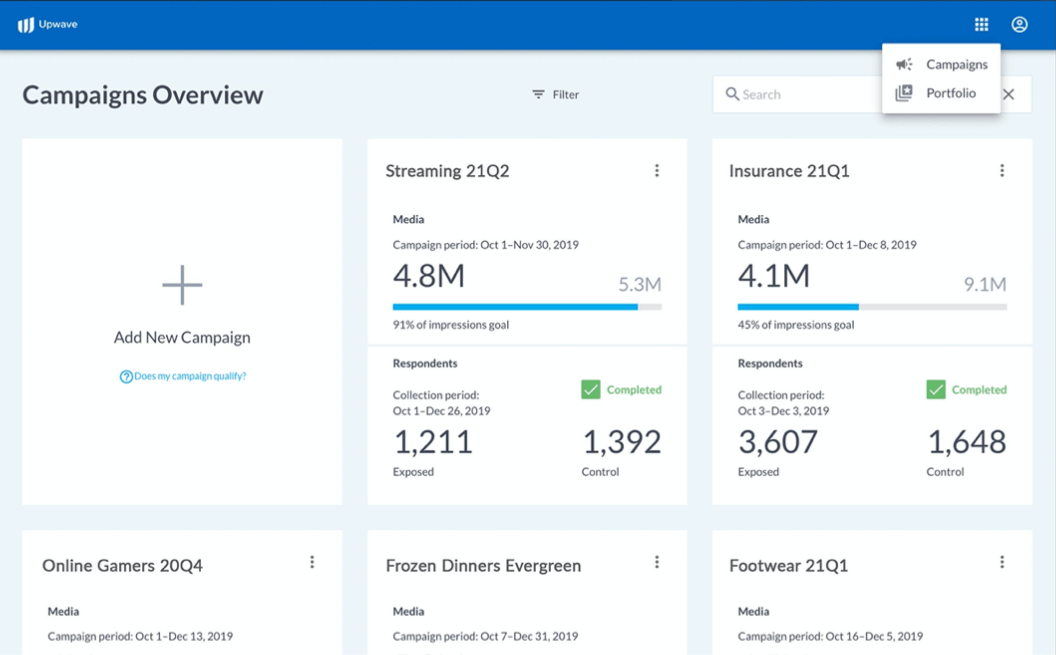 In the Portfolio view's Comparison tab, select groups of campaigns and KPIs you'd like to compare. The easy-to-read table displays not only KPI lift and confidence intervals for each campaign, but also provides a dynamically generated weighted average based on the selected campaigns for each KPI with its own confidence interval.

Set performance expectations with stakeholders based on prior campaigns. Validate media strategies and pilots against a comparison set. Easily generate inputs for brand reviews, comms planning, and best practices on the fly.
Portfolio View is in open beta, and we look forward to adding more features based on customer feedback.
Okta
Signing in to your Upwave dashboard is about to get much easier.  We have chosen Okta as our Single Sign On (SSO) partner — a secure and reliable platform to facilitate logging in to access your data. With Okta, we can now support your organization's SSO Identity Provider (IdP).  To add Upwave to your organization's SSO, contact your Upwave CSM.
OLD                                                                                         NEW