Waiting for post-campaign research reports–and hoping a campaign achieved success against your Brand KPIs–is no longer acceptable. In the past, agencies and media partners optimized their media to improve direct response metrics, and then research teams were forced to back into a compelling post-campaign brand story. This created a big disconnect. But if brands want to improve their branding efforts in-flight, they need to provide their agencies and media partners tools to maximize brand outcomes. Which means real time, top-of-funnel measurement and optimization for CTV, Digital, Social, Linear, and Addressable.
Causal analysis and tools of comparison, like Upwave's Brand Optimization capability, empowers our customers with actionable recommendations to make media changes appropriate with their given risk tolerance. Upwave is the only platform that has purpose-built algorithms diagnosing when and how to optimize and maximize your Brand Outcomes, and it works:
Customers who utilize Brand Optimization, in addition to the rest of our robust brand analytics platform, see nearly a 7X increase in lift.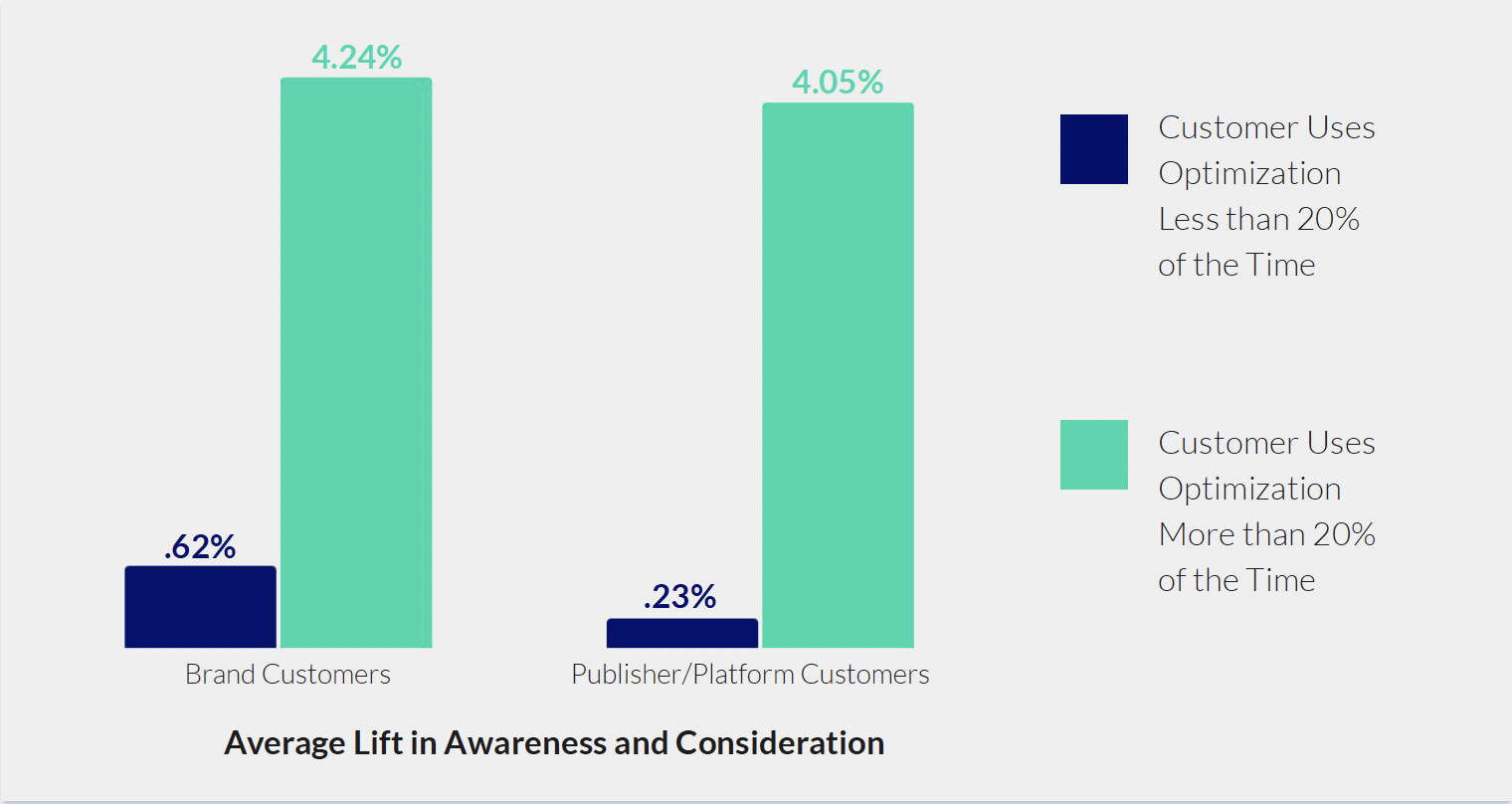 It shouldn't take searching for a needle in a haystack in order to understand what levers to pull to increase brand KPIs, or waiting until the end of a campaign when accurate and actionable decisions can be made now.
The Upwave dashboard gives a detailed view of campaign performance across media and creative tactics, helping our customers avoid sifting through a lengthy list of cuts and metrics to find the information they want. Customers have access to Outperformance Indicators for every tactic, showing the probability that a tactic is helping, or hurting, a campaign, making it easier than ever to leverage these analytics to make meaningful decisions.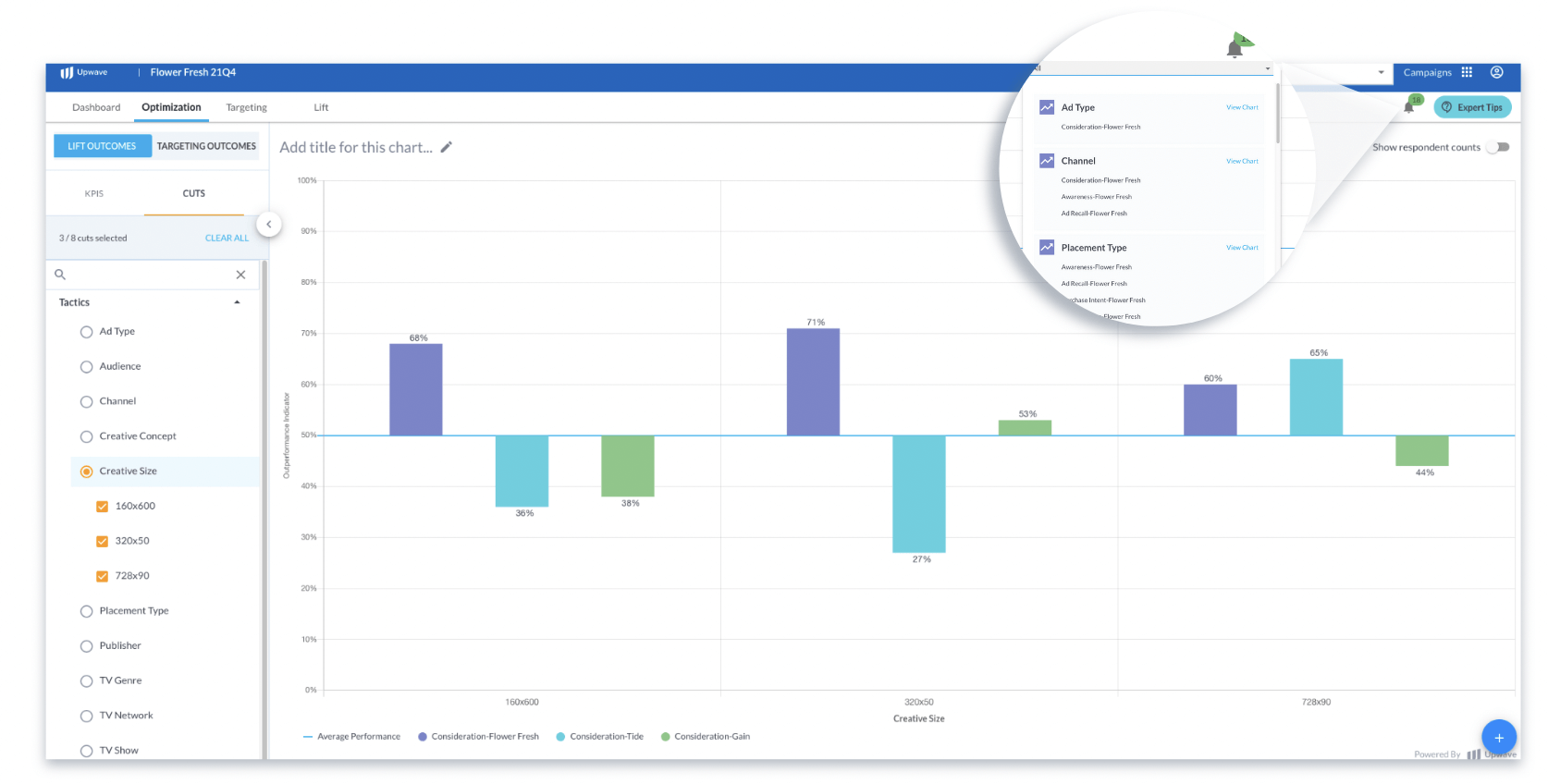 Brand Optimization in Action | Case Study
A leading pharmaceutical and health care company invested in a Digital (Display, Mobile and Desktop) and TV campaign across with three main challenges/objectives:
Increase Brand KPIs, specifically brand awareness and brand reputation, with an end-goal of becoming a household name 

Measure reach among a broad, national audience, but also niche demographics, beyond age and gender: HHI $100k+, High-Level Job Title/Industry in Healthcare, Finance, Government

Build brand trust among both new and existing customers with their messaging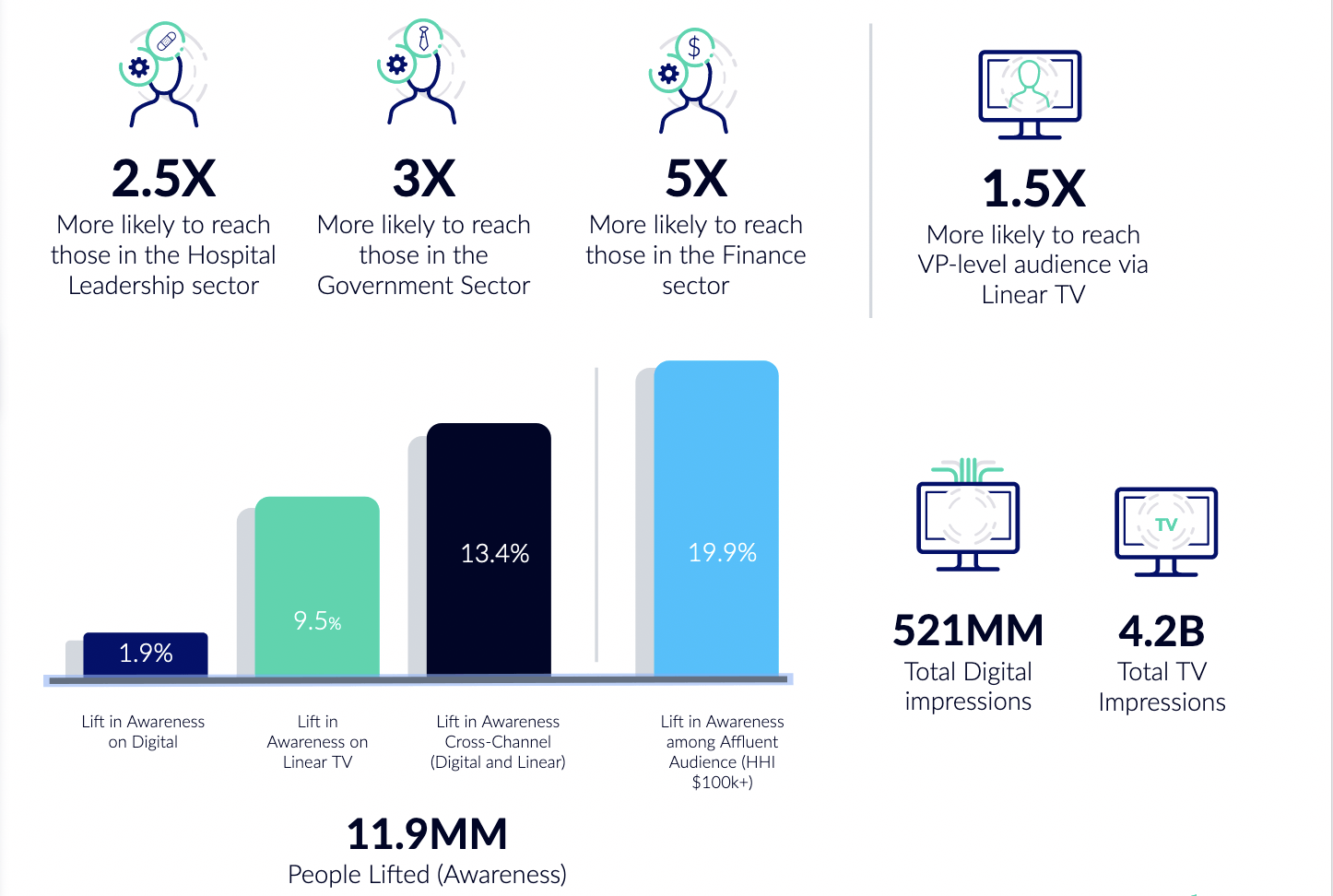 Results:
The brand was not investing in both channels throughout the entire campaign, and Upwave's Brand Optimization capability revealed that Digital alone was not as effective. Running both TV and Digital together helped drive lift. 

Upwave also showed that their messaging on TV took time to gain momentum, and they should utilize programmatic to hyper-target better performing audiences on TV.

The platform also allowed the brand to further refine their messaging throughout the campaign, optimizing for creatives based on outperformance indicators among their target audiences–leading to spikes in key KPIs in the final month of the campaign.

In general, the campaign drove higher lift across all Brand Outcomes KPIs over time, based on the utilization of Brand Optimization and Brand Reach tools.
Maximize Brand Outcomes with Upwave
Upwave is the first, and only, measurement platform to provide best-in-class causation and comparison tools, helping improve Brand Outcomes.
Interested in learning more about Upwave, schedule a demo now. If you're already a customer, and want to become more familiar with the Brand Optimization feature, watch this video.