There is no doubt we have entered a period of major disruption. As COVID-19 continues to sweep the United States, with increased consumer anxiety and unemployment, and with consumers home-bound, it can feel impossible for brands to get an accurate measure of what the "new normal" looks like. This is especially true with TV advertising.
Do the old rules still apply? More importantly, can brands leverage the supposedly increased TV viewership—or do ads come off as cliche, irrelevant, and even manipulative?
These are the questions Upwave wanted to understand, in collaboration with partner Alphonso. On May 20, the two organizations held a webinar to share survey results they collected regarding the changes in TV consumption during the COVID-19 pandemic*. Based on the survey, Upwave and Alphonso have developed five core insights. These insights navigate a clearer path forward for brands in this disrupted environment, and what we have found may surprise you.
#1. Brands considering COVID-19 messaging must navigate consumers' conflicting attitudes
Consumers have conflicting views on what COVID-19-centric TV advertising means to them. Some consumers have extremely negative attitudes toward COVID-19 creatives, calling the creatives "deceptive and looking to take advantage of consumers fears" and "all sound[ing] the same." However, other consumers view these creatives in a much more positive light. They like the themes of "unity and self-care" and appreciate the humanity being expressed in the creatives. In particular, survey participants highlighted appealing ad examples that educate the public on the epidemic—like The New York Times—and that support frontline workers—like Exxon Mobil.

#2. 45% of consumers are engaged by COVID-19-centric TV advertising and have an opinion on it
The Upwave-Alphonso research found no clear consensus on the favorability of COVID-centric advertising among consumers. When asked, 24% of consumers had a favorable view of COVID-19-minded TV ads, while an almost equally large percentage (21%) had an unfavorable view.
The following insights illuminate how brands can specifically align their creatives to engage consumers in unprecedented ways and boost their brand image.

#3. Brands inspire consumer confidence when they show how they adapt during crisis—and fall flat when they maintain "business-as-usual" advertising
Building on the assertion that consumers have differing viewpoints on COVID-19 messaging, it becomes clear that brands have a fine line to tread when advertising in the midst of a crisis. However, the research points to strategic guideposts for impactful TV brand creative.
When asked which common COVID-19 creative themes were compelling to them, consumers rated certain themes better than others. In particular, creatives that promote at-home, delivery, and safe pickup services are compelling to 51% of consumers surveyed. Similarly, ads promoting COVID-19 safety measures and ads featuring frontline workers are almost equally appealing creative strategies. This indicates that consumers are swayed by how brands are prioritizing consumers' safety and are adapting their business models to the crisis at hand. Additionally, they seem to be swayed by brands acknowledging heroes at the forefront, such as healthcare professionals.
Notably, only 20% of consumers found "business as usual" messages (and ignoring the COVID-19 crisis) compelling.

#4. Already-heavy TV viewership has significantly increased
Unsurprisingly, consumers say they are watching more TV during the pandemic. In particular, the increases are at the most extreme end of the TV-watching spectrum. Heavy TV viewership behaviors—defined as 40 hours or more of TV-watching a week—spiked from 6% to 16% among the survey participants.
Interestingly, two groups are more highly represented in this extreme category. There are higher proportions of baby boomers and rural TV viewers relative to other audiences types.

#5. Linear TV remains essential
If you were stranded on a deserted island, which TV platform would you bring with you? Would it be a streaming service or traditional cable?
This is what we asked consumers to better understand which TV platforms are considered essential to them. In 2020, when many are cord-cutting, or adding Over The Top (OTT) services, Netflix is king with 40% of survey participants selecting the streaming service as their primary platform.
However, traditional TV follows, pulling ahead of Hulu, Disney+, and other strong competitors. Traditional TV remains to be the favorite among 20% of consumers, indicating continued traditional advertising opportunities for brands.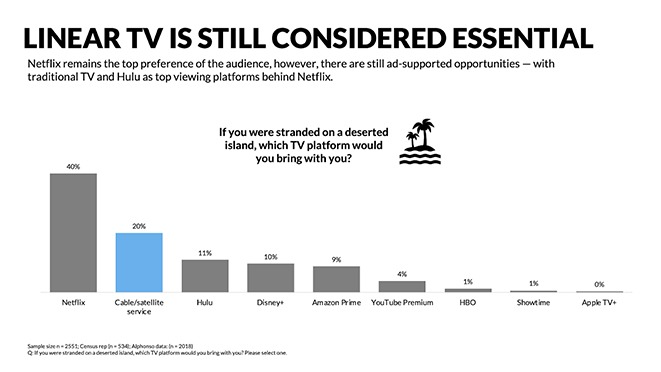 *This research was conducted May 15-17, 2020 and included a total of 2,551 consumers on Upwave's Digital Network. Participants were interviewed in exchange for access to content or a service, such as free Wi-Fi. Consumers receive no monetary payment for their participation.