Verizon and AT&T are the dominant US wireless carriers, with over 70% of subscribers between them. T-Mobile just announced a good quarter driven by new customers, mostly poached from AT&T. We wondered, how many people are going to abandon AT&T and Verizon this year?
We asked AT&T and Verizon wireless customers – specifically those who pay the bill or whose spouse pays the bill – if they intend to switch wireless carriers in the next six months. As you can see below, the majority of people aren't interested in switching carriers – but there's a sizable portion of contracts up for grabs.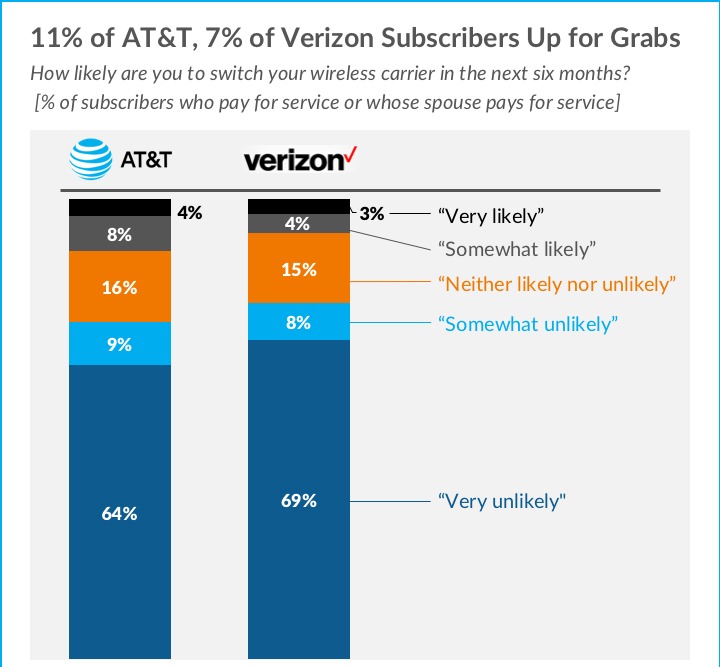 Combining subscribers "somewhat likely" and "very likely" to switch equates to 14.5 million AT&T customers and 10.5 million Verizon customers up for grabs in the next six months.1
Where are subscribers likely to leave AT&T and Verizon going? 78% of switchers will stay in the top 4 (Verizon, AT&T, T-Mobile and Sprint), while 22% will move to smaller carriers.
1. Taking margin of error into account, at 95% confidence interval, the range of customers up for grabs is 9 to 20 million for AT&T, and 6 to 15 million for Verizon.