From goofy distortive filters to controlled amounts of time people can view photos, Snapchat offers users an outlet for quick and raw photo sharing. Instagram, on the other hand, focuses on perfected images, allowing users to set their desired saturation points, highlights, and sharpness. Additionally, Instagram's shifted focus to ad-based material creates additional barriers compared to Snapchat's selective and avoidable ad-capabilities. Upwave interviewed users of both apps and asked them to choose which they would keep if they could only continue using one. Overall, 57% of respondents chose Instagram, but when split up by demographic, some results are surprising.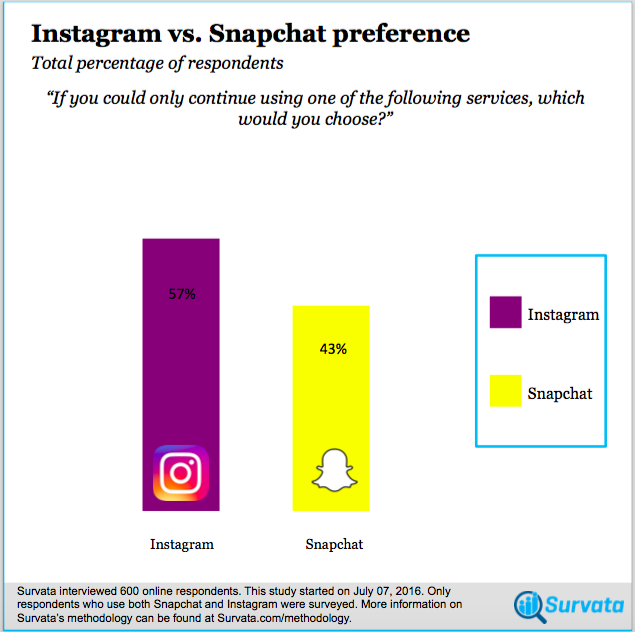 Given millennials' ever-growing technology usage, assumptions would lead to the conclusion that younger people would move toward Snapchat. However, it looks like older generations feel more dedicated to Snapchat than millennials; 52% of users ages 45-65 say they would rather keep Snapchat if given the choice.
Perhaps millennials are slowing down and beginning to like the ease of peacefully scrolling through their respective feeds. The added memories feature on Snapchat could make it more appealing to older generations, who may prefer to avoid expending energy keeping up with the Facetuned and edited perfection of America's youth in posts.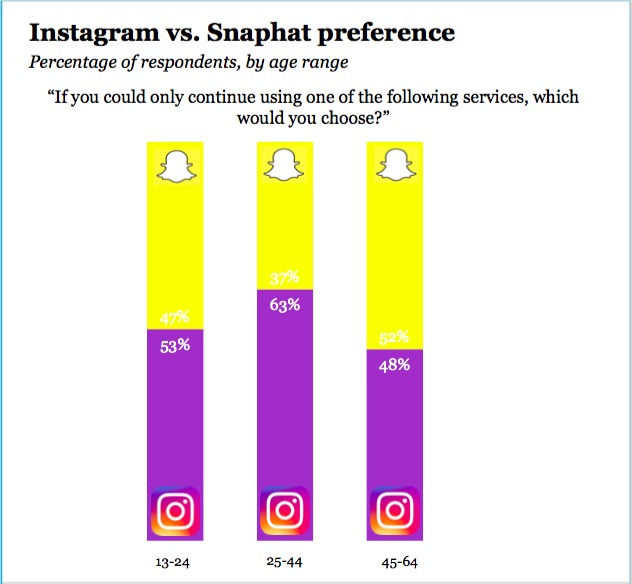 While the overall majority chose Instagram as the frontrunner, the regional breakdown of Snapchat vs. Instagram preference displays an East vs. West disparity. With Snapchat's hub in LA, and the tech industry centered in Silicon Valley, we were not surprised that the West showed more interest in pursuing this newer app.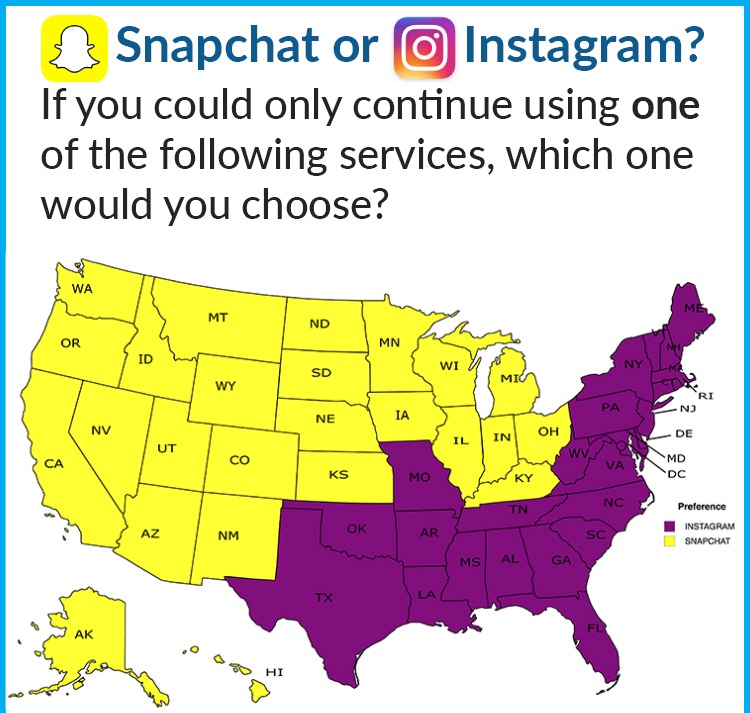 Interested in measuring your own consumer preferences? Contact Us Today.
Methodology Details
This survey was commissioned by Upwave and conducted by Upwave, an independent research firm in San Francisco. Upwave interviewed 600 online respondents between July 07, 2016 and July 18, 2016. Respondents were reached across the Upwave publisher network, where they take a survey to unlock premium content, like articles and ebooks. Respondents received no cash compensation for their participation.[/vc_column_text]