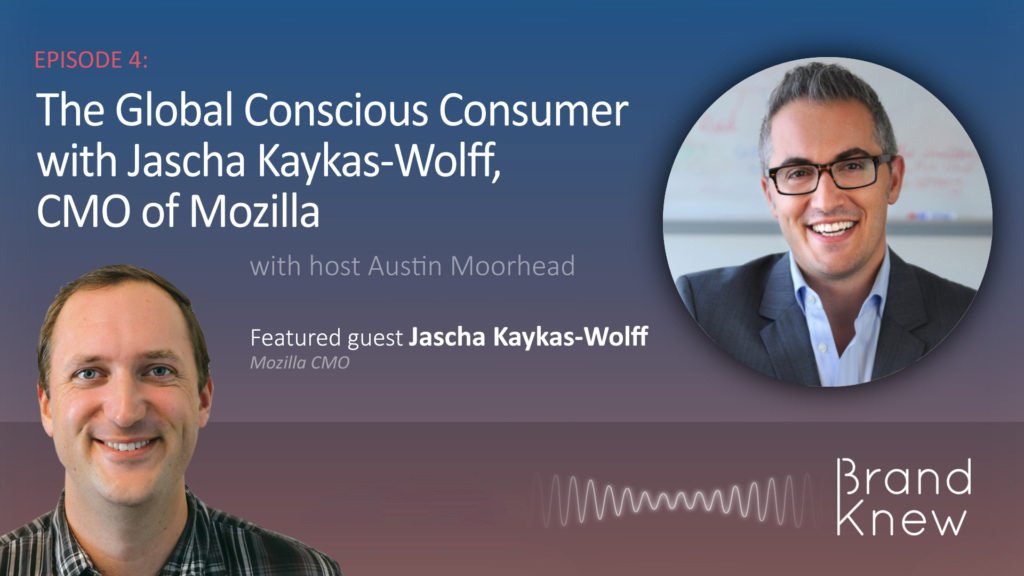 Brand Knew is a new podcast featuring interviews with marketing leaders of major national brands. Hosted by Austin Moorhead, the podcast will dive into how consumers are changing and what brand leaders are doing about it. Upwave is proud to be the sponsor – check out their fourth episode below with Mozilla CMO, Jascha Kaykas-Wolff, and be sure to subscribe for future episodes with marketing thought leaders.
Brand Knew Ep. #4: The Global Conscious Consumer with Jascha Kaykas-Wolff, CMO of Mozilla
Mozilla, the company that makes the Firefox browser, competes with Google, Apple and Microsoft. Mozilla's never going to win a traditional marketing battle against these goliaths, so instead they focus on long-term brand-building initiatives: art installations and advocacy for an open internet.
Listen to the CMO of Mozilla, Jascha Kaykas-Wolff, discuss his approach to brand building, their discovery of the global "conscious chooser" segment, and why he thinks it's important to teach incarcerated individuals how to code.